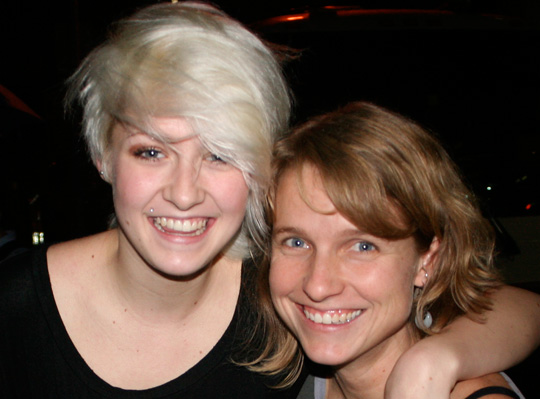 Over the last several days, I've tried to escape my children, find a relatively quiet room of the house and get a little writing done. After a dozen or so failed attempts to tune out the crashes (followed by hushed deliberations), the "thunks" of unknown objects being sucked up in my vacuum (my Miele and I were recently reunited), and the heated arguments over sharp objects or hot liquids, I've decided to throw in the towel, quit resisting and fully engage with my family. (Any posts between now and the first of the year will be brief and require little brain-power.) My family needs me, I need not to feel crazy over being needed, and my eldest daughter (17 today) flies in tonight for the holidays!!
Those of you who know our story can imagine the sweetness of her homecoming. For those of you who don't, I'll not go into the details–some things are simply better left unpublished. I will share what I wrote through a blur of heartbroken tears on the day she went to live with my (amazing) parents almost a year and a half ago…
Among life's greatest challenges, unexpected transitions have a tendency to push our current state of being to the edge of our emotions. When, as parents, we observe the speed at which children grow, it is only natural to wonder whether we will be ready for, or capable of handling whatever comes next. Each phase brings both inherent wonder and unforeseen adversity. Newborns and their miraculous divine essence plague new parents with uncertainty and sleep deprivation. Toddlers with their heart-warming affection and adorable first words will run into the road without a thought. Preschoolers and their hilarious questions can throw tantrums that make you think them possessed. Grade schoolers, boasting their very own brilliant ideas and emerging strengths, begin to reflect the imperfections of their parents.
Then there's the phase currently keeping me up at night, wrought with inexplicable emotion. The nearly grown teenager–a walking compilation of your efforts–will inevitably cause you to reflect upon whether you've done enough good by your child, that in their search for independence, they will eventually find themselves whole and fulfilled.
I do not claim much wisdom in the teenage-rearing department. It is more complex and inexact than anyone can fully grasp without firsthand experience. Those who claim to have all the answers for your child are full of themselves. The thing I can speak to is how intensely you still love them when they're horrible and push you away. How much you'll wonder what happened to the time and contemplate the choices you made that may or may not have influenced their confusion and inner turmoil. How much you want to protect them with the same embrace you always have, but must surrender them to Life's open arms, and trust She is good.
My humble advice is this…whatever phase you currently find yourself in, learn to be present, embrace your circumstances, and find the joy in whatever challenges you. This parenting thing — it doesn't necessarily get easier, it just changes. If you wait until your circumstances are "ideal" to be happy, you'll miss it, altogether. You never know when life will take an unexpected turn. You never know when you'll have to let them go.
Our family has grown immensely since that day–every one of us. I now know with absolute certainty that time is gracious and capable of healing the rawest of wounds. And that space is sometimes necessary to sprout deeply-seeded appreciation. That there is no one right way to raise a family. And that homecomings mean something different, altogether, when you're anticipating the arrival of your child. Happy Birthday, Sigorni. Welcome home, my solstice girl.