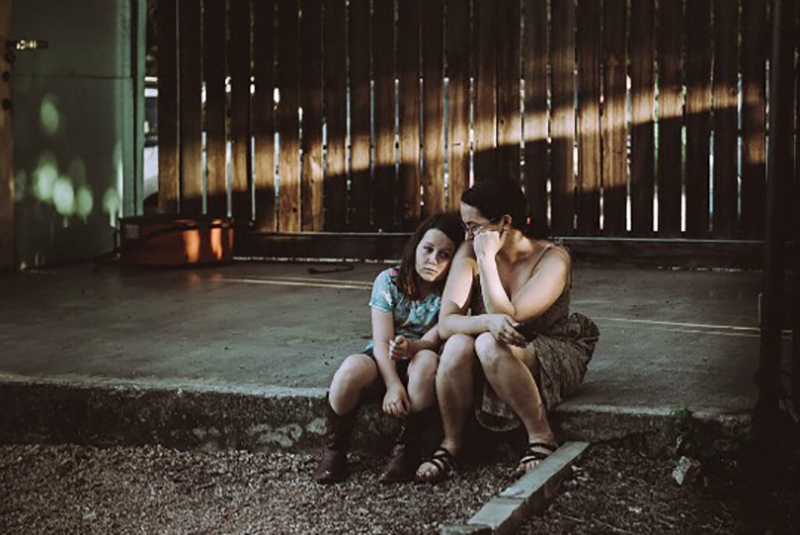 Dear Mothers,
I'm writing you today because I can no longer contain the ache in my gut and fire in my heart over an injustice that you and I are bearing the brunt of.
Though this injustice is affecting everyone — men, women, and children alike — mothers not only feel its burden more than most, but we also feel disproportionately responsible for alleviating its pervasive and deeply damaging symptoms, which is adding hugely to the weight of the world we're already wired to carry.
The injustice is this:
It takes a village, but there are no villages for the majority of us. 
By village I don't simply mean "a group of houses and associated buildings, larger than a hamlet and smaller than a town, situated in a rural area." I'm referring to the way of life inherent to relatively small, relatively contained multigenerational communities. Communities within which individuals know one another well, share the joys, burdens, and sorrows of everyday life, nurture one another in times of need, mind the wellbeing of each other's ever-roaming children and increasingly-dependent elderly, and feel fed by their clearly essential contribution to the group that securely holds them.  
I'm talking about the most natural environment for children to grow up within.
I'm talking about a way of life we are biologically wired for, but that is nearly impossible to find in developed nations.
I'm talking about the primary unmet need driving the frustration that most every village-less mother is feeling.
Though the expression "It takes a village to raise a child" has become cliché, the impact of our village-less realities is anything but insignificant. It's wreaking havoc on our quality of life in countless ways.
In the absence of the village…
Enormous pressure is put on parents

as we try to make up for what entire communities used to provide.

Our priorities become distorted and unclear

as we attempt to meet so many conflicting needs at once.

We feel less safe and more anxious

without the known boundaries, expectations and support of a well-known group of people with whom to grow.

We're forced to create our communities

during seasons of our life when we have the least time and energy to do so.

We tend to hold tight to our ideals and parenting paradigms,

even when doing so divides us, in an attempt to feel safer and less overwhelmed by so many ways and options.

Our children's natural way of being is compromised

, as most neighborhoods and communities no longer contain packs of roaming children with whom to explore, create, and nurture their curiosity.

We run around like crazy

trying to make up for the interaction, stimulation and learning opportunities that were once within walking distance. 

We forget what "normal" looks and feels like

, which leaves us feeling as if we're not doing enough, or enough of the "right" things.

Depression and anxiety skyrocket

, particularly during seasons of our lives when we instinctively know we need more support than ever but don't have the energy to find it.

We feel disempowered

by the many responsibilities and pressures we're trying so hard to keep up with.

We spend money we don't have

on things we don't need in an attempt to fill the voids we feel.  

We rely heavily on social media

for a sense of connection, which often leads us to feel even more isolated and inadequate.

We feel lonely and unseen

, even when we're surrounded by people.

Our partnerships are heavily burdened

by the needs that used to be spread among communities, and our expectations of loved ones increase to unrealistic levels.

We feel frequently judged

and misunderstood.

We feel guilty for just about everything

: not wanting or having time to be our children's primary playmates, not working enough, working too much, allowing too much screen time in order to keep up with our million perceived responsibilities, etc.  

Joy, lightness and fun

feel hard to access.

We think we're supposed to be independent

, and feel ashamed of our need for others.

We make decisions that don't reflect our values

but our deeply unmet needs.
Perhaps most tragically of all, the absence of the village is distorting many mothers' sense of self. It's causing us to feel that our inadequacies are to blame for our struggles, which further perpetuates the feeling that we must do even more to make up for them.
It's a trap. A self-perpetuating cycle. A distorted reality that derives its strength from the oppressive mindsets still in place despite our relative freedoms.
Here's a new mindset to try on for size:
Mothers' inadequacy is the least of our problems. We may feel inadequate, but that's because we're on the front lines of so many problems (i.e. failing social structures, toxic cultural norms and narratives, etc.), which means we're among the hardest hit (of course, mothers of color and those with other marginalized identities are hit hardest of all while navigating multiple "front lines" of oppression). Across the board, mothers are wired to absorb the impact of dysfunctional, toxic systems so that our children might be less impacted.
That makes us heroines, not failures.
No, we're not oppressed in the same ways that we used to be (nor in the ways other women still are around the world), but make no mistake about it:
In the absence of the village, we're disadvantaged like never before. We may have more freedoms than our foremothers, but our burden remains disproportionately, oppressively heavy.  
Since the beginning of time (and until very recently), mothers have borne life's burdens together. We scrubbed our clothes in the streams while laughing at splashing toddlers and mourning the latest loss of love or life. We wove, sewed, picked, tidied, or mended while swapping stories and minding our aging grandmothers. We tended one another's wounds (both physical and emotional), relied on one another for strength when times were tough, and sought counsel from our community's wise, experienced, and cherished elders.
Village life inherently fostered a sense of safety, inclusivity, purpose, acceptance, and importance. These essential elements of thriving were built in.
Now? We're being forced to create all of that for ourselves within a society that has physically and energetically restructured itself around a whole new set of priorities. It's a profits before people model, which threatens the wellbeing of nearly everything we mothers are wired to protect.
Though I'm optimistic and hopeful by nature, this dilemma has left me discouraged many times over the years. How does an entire nation of mothers shift a storyline this massive while individually and collectively weakened by the absence of the very thing we so desperately need?
Major cultural shifts in prioritization, structure, and power are clearly in order (and I do believe they're happening, however chaotically). In the meantime, each of us has a choice to make:
We can buy into, make peace with, and conform to the way things are, or exercise the freedoms our foremothers and fathers won for us and commit to doing our unique and essential part in creating change, starting within us and working our way out. 
You and I aren't likely to experience what it's like to raise children in an actual village, but that's okay. That's not what this generation is about. This generation is about waking up to who we really are and what we really want, and resetting society's sails accordingly. 
Playing your part in the re-villaging of our culture starts with being wholly, unapologetically, courageously YOU. Here are a few tangible steps you can take whenever you're ready:
Get really clear on one thing:

the fact that you're struggling is not a reflection of your inadequacies, but the unnatural cultural circumstances you're living within.

Own and honor your needs.

Most mothers are walking around with several deeply unmet needs of their own while focusing almost exclusively on the needs of others. This is precisely the thing that keeps us from gaining traction and improving our circumstances, both individually and collectively.

Practice vulnerability.

Rich, safe, authentic connection is essential for thriving. Cultivating this quality of connection takes courage, and a willingness to step outside your comfort zone. What you want most exists on the other side of that initial awkward conversation or embarrassing introduction.  

Own your strengths.

What makes you feel strong and fully

alive?

What lights you up and gives you energy just thinking about it? Who would you be to your village if you had one? Tapping into your strengths and engaging them is one of the greatest ways to attract the kinds of people you want into your life, bless and inspire others, and build a sense of community in ways that fill rather than drain you. 

Become an integral part of something.

Whether it's a knitting group, dance troupe, church, kayaking club, or homeschool collective, commit to growing community around one area of your life that enlivens you or fills a need. Use the connections you cultivate within this community to practice showing up bravely and authentically and asking for what you need, be it support, resources, or encouragement.

Do your part and ONLY your part. Though it's tempting to fill our lives to the brim with commitments that make a difference, doing so only further disempowers us. Read Essentialism if you struggle with this one.
Learn self-love and self-compassion. In a culture of "never enough" it is essential that we forge healthy relationships with ourselves in order to be able to fend off the many messages hitting us about who we're meant to be and what makes us worthy of happiness and love. In fact, I see self-love in action as the greatest gift our generation of mothers could possibly give to the mothers of tomorrow. 
Speak your truth.

Even when you're terrified. Even if it makes you the bravest one in the room.

Imagine a new way. Where we're headed looks nothing like where we've come from. Creating the kind of future we want requires envisioning that future and believing a new way to be possible. Get specific and think big. What do you want?
Look to communities of color for inspiration and guidance. Many Black and indigenous mothers have always relied upon rich social networks and cultivated tightly knit communities, often as a means of survival. White women have much to learn from the resilience, creativity, and mutual aid demonstrated by BIPOC mothers. We also have a responsibility to compensate BIPOC mothers when they are generous enough to share their hard-earned wisdom with us.
I've tasted village life:
Growing up in a grassroots church community where, despite dogma that didn't work for me, I felt a deep sense of safety and belonging.

During college, when my people were within walking distance and we'd yet to subscribe to "adult" social rules that told us what what was most important.   

When my young adult cousins lived with us for several months at a time. I've never enjoyed motherhood more than those days when I knew that the needs of the children, home, and its individuals were joyfully shared among eager, loving souls.

On retreat with other women, when each of us was reminded of how very similar our struggles, and how very desperate we all feel for consistent support, everyday interaction, healing, lightness, and ease.

At outdoor festivals, when the village is recreated, if only for a weekend of camping, and everyone settles into a communal way, cooperative rhythm, and lighter state of being.   

During the time I spent with Maya mothers in impoverished, rural Mexico. There I witnessed, firsthand, the blessings made possible by the presence of a tight-knit, however disadvantaged.
My soul was fed deeply during those time periods. Every time I get a taste of what we're missing, I become strengthened and hopeful again. THAT is the energy needed to create change. THAT is what the powers that be don't want us to feel.
I have no idea what the future holds, but I do know this:
We're supposed to be crying, celebrating, falling down, and rising together.
We're supposed to have grandmothers and aunts and neighbors and cousins sharing the everyday moments, guiding us, and helping us see the sacredness amidst the mundane.
We're supposed to be nurtured for months postpartum, cared for when we're sick, held while we mourn, and supported during challenging transitions.
And our children are supposed to cradled and allowed to grow within the social structures WE deem best for them.
Find yourself, then find your people. Or do it the other way around. Just don't settle. Don't ever settle for a way of life created by those who don't honor your soul and cherish your babies.
Change-making right alongside you,
"Another world is not only possible, she is on her way. On a quiet day, I can hear her breathing." ~ Arundhati Roy
**This post has been updated to reflect my growing understanding of the disparate impact of broken systems and cultural dysfunction on mothers of color. I am committed to continuing to examine the ways in which I have centered whiteness in my analysis of motherhood and sincerely apologize for the micro-aggressions my ignorance and white privilege has no doubt caused.
——–
Announcements and Offerings:
I have an exciting new revillaging course about to launch in March that's self-paced and intended to support mothers in creating the rich communities and life-giving connections they crave and deserve! Enter your details below to be the first to hear about it and sign-up!

*Photo credit goes to the crazy-talented, bright-shining soul, Jote Khalsa.