Following my recent post about the latest leg of our kids' educational journey, I thought I'd revisit an oldie in which I described the early days of my search for the perfect educational system. Makes me laugh to think about how far we've come, how many paths we've been down and how much baggage I've let go of along the way.
When my first daughter was not yet a year old, I did what many thinking parents do — I set out on a quest for the perfect educational system. Of course I did. She was a precocious, creative child who deserved only the very best. How could I short her of her birthright?
Pre-internet, I headed for my local Half-Price Books. Blown away by the volumes of literature on the subject, low on cash and stressed by my wandering toddler, I grabbed the one book whose title most concisely summed up my current philosophy and bolted for the register: Natural Childhood. I still remember the page that got me — a sepia-toned photo of two little girls in dirty prairie-style dresses making mud pies, captioned: "Waldorf Education." That was it for me. The feeling I had looking at that picture, imagining my girl in a school that believed making mud pies was as important as creating pie graphs, spawned a 12-year pursuit to ensure Waldorf education for my children.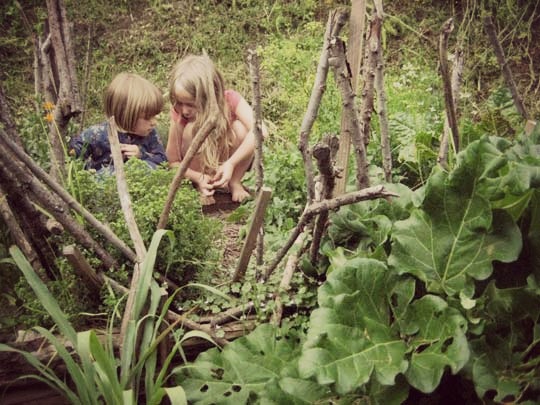 To some of you who consider the finest education to look slightly more academic than mud play, this choice may seem less than logical. It was not logical. At the time, it was very much emotional. It felt right that a young child should explore her world in such a simple and wholesome way. Through the years, my emotion — fueled by further study of educational philosophy and a pursuit of other like-minded parents — became a passion. What parent in their right mind wouldn't choose this holistic, creative education for their child?
Having grown to a family of four, homesteading and living on one income to fulfill other ideals, we were beyond broke. That was beside the point. Money would not stand between my children and the perfect school. I cleaned classroom after classroom with babies 2, 3, and 4 on my back and we lived in 450 square feet to afford the monthly tuition. That year, we enrolled not one, but two of our kids. I became a budget balancing, classroom cleaning, penny-pinching madwoman. Did I mention it was a 45–minute drive, one way to school? My truck was my new home, only slightly less roomy than the house. I brought separate snacks for the drive to and fro, knew all the safest places to stop and nurse when the baby's cries progressed from bored to starving, and perfected the motherly art of selective hearing. I sold anything of value on eBay, claiming freedom from materialism, while simultaneously justifying car toys from Target as "the price of peace."
In all fairness, I must pause to mention that my husband did suggest from time to time that the kids would probably be fine at the local public school. I vaguely remember saying something like, "How could you think of compromising your childrens' wellbeing?" or, "You'd prefer that our 5-year-old be tested under florescent lights with virtually no play time and made fun of for bringing carrot sticks and hummus in her lunch?" (I only just vaguely remember saying such things.)
We dropped back down to one enrolled child and moved to town. I would purchase Waldorf curriculum, home school my children and slowly build a home-based income. That was the year I nearly lost it. One day, nursing my newborn, a kid on either side of me fighting over the baby, my teenager screaming at me about the house being disgusting and "Why couldn't I take her shopping?" I realized I not only had no energy to plan lessons, make money, or even make lunch — but that I hated my life. I had given up everything fulfilling to me in order to give my kids what I thought they "deserved."
Over the next year, I began to explore myself again, and realized I had been creating stories about who I was "supposed to be" and what was the "best way" for my family. None of it was inherently true, and none of it was worth it for the misery I had inflicted upon myself. I was suddenly aware that there might be other good people in the world who love their children and want the best for them, but who cannot afford private education, or who do not feel inspired by homeschooling. Funny, it actually seemed MOST parents were in this boat.
Our kids no longer attend Waldorf schools and I have made peace with this decision. They ride the neighborhood school bus to the perfectly okay neighborhood public school. The teachers are just as dedicated and the kids act about the same as kids do everywhere. I now have time to make money from home and live a much more balanced and fulfilling life. Do I regret the years I spent trying to achieve an unaffordable dream? Not at all. I have grown from my experience and now have an expanded sense of my strengths and my limitations. I will always have great appreciation for Waldorf education and incorporate its philosophies into my home life. I now also have great appreciation for public education. My kids are well adjusted and happy, they make mud pies in our backyard and I don't send hummus in their lunches.