Before I begin, I must admit that I enjoyed this project even more than the kids. Actually, during one of my many exclamations of delight at such wonders as the vibrancy of blue attainable from a pointedly purple cabbage, or the mottling effect that vinegar has when mixed with beet juice, Taos – with her new pre-teenagerish look of disgust proclaimed, "Wow Mom, you are like totally dorking out on this whole Easter egg deal. You're kinda scaring me."
Okay, so I'm a total dork (as is apparently evident anytime natural foods meet science meets practical family project) but it really was fascinating! Who'd have thought that hibiscus flowers would leave a royal purple stain after 10 minutes, but a muted, matte gray when left overnight? Who'd have guessed that the deepest green spinach or freshly unearthed carrots would prove about worthless as egg dye?
Needless to say, when I mentioned my intentions for the dye-extracted, boiled veggies (soup, what else?), my bright idea was met with gagging noises, puking gestures and a whole day of laughs at my expense.
So my pleasure was all the greater when – enticed back to the kitchen by the aromatic coupling of root vegetables and savory spices – they were begging for a bowl, apologizing for their crude critiques and singing my praises for their dinner of Easter Egg Dye Soup. I may be a total dork, but my kids are growing up to appreciate the wonders of natural foods, and that's one compromise I'm willing to make.
The results of our experiment…
Directions for Making Your Own Natural Easter Egg Dyes
Collect dye ingredients. This is the most comprehensive list I've found of natural egg dyes, though some are much more effective than others.
Wash as many eggs as you'd like in warm, soapy water to remove any film or bi-products of the farm-to-table process.
Bring eggs to a boil and cook for 10 minutes. Allow to cool.
Chop veggies into pieces.
Place 4 cups of water and a generous amount of one dye ingredient in a pot or saucepan. There is no set rule for how much to use, but I used enough fruits and veggies that the water just covered their tops and ½ to 1 cup of spices, tea and coffee.
Boil for 15-30 minutes, checking the water for color intensity. Keep in mind that the dyed eggs will not be as bright as the liquid.
Strain the solids from the liquid and set cooked vegetables aside for soup. (I used carrots, beets, cabbage and spinach.) Compost the rest.
Pour dye into narrow, tallish containers (raid your recycling bin – yogurt containers work great) and label them. I wouldn't have known what was what without the labels – the colors are often surprises.
Add 2-3 tablespoons of vinegar (white or apple cider) to each container. Stir.
Place clean, boiled eggs in dye. Make sure they are fully submerged.
Wait. Check after 20 minutes. Leave in as long as overnight to deepen the color in the fridge). Some dyes begin to eat away at the outer shell when left overnight, actually producing a more muted (and sometimes beautiful) color.
Rinse eggs or just allow to dry on a dry towel. The effects can vary greatly by leaving the dye film to dry (and crackle, fade or give a tie-dye effect).
Store in the fridge until Easter.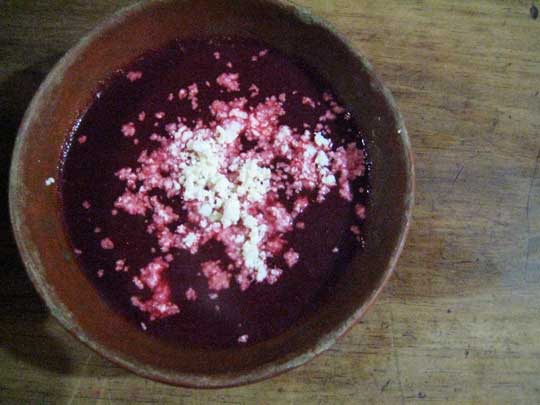 Easter Egg Dye Soup – Our New Spring Tradition
As inexact as the dye-making process, creamed soups are forgiving and simple to make. Here was this year's version…
6-10 cups boiled veggies from the Easter egg dying process
6-8 cups vegetable or chicken broth or 3 cubes of bullion dissolved in 6-8 cups boiling water
2 onions, chopped
8 cloves of garlic (or more, but then I love garlic), diced
4 T butter
thumb-sized chunk of fresh ginger, peeled and grated
2 T apple cider vinegar
½ tsp salt
½ tsp cinnamon
¼ tsp cumin
¼ tsp curry powder
bay leaf
pinch nutmeg
pinch cayenne (optional)
1 c heavy cream (optional)
salty, crumby cheese such as cotija, (optional)
Saute onions in butter over medium heat until transparent. Reduce heat. Add garlic and spices except bay leaf. Squeeze juice from grated ginger and add, discarding the pulp. Saute 2 minutes more. Add vegetables. Stir and remove from heat. In several batches, blend broth and vegetables together in a blender until all vegetables are smooth. Add broth/vegetable mixture back to the pot. Depending upon the consistency, you may want to add a little more water or broth at this point. Add bay leaf. On low heat, allow to simmer for 15-20 minutes, adding heavy cream toward the end if desired. Serve hot and top with crumbled cheese.