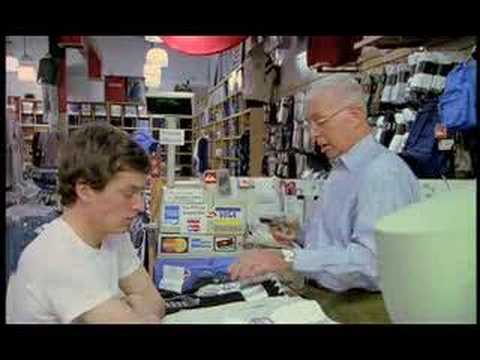 You might say this one pushes the bounds of "feel good," but there are several things that actually do give me warm fuzzies about this video:
Anytime the "working poor" of the world are recognized for their thankless contribution to the health, wealth and wellbeing of the rest of us, we are one step closer to closing this chasm of inequality.
Transparency, even when slightly uncomfortable, is an important step toward real progress and true prosperity.
Even the slightest increase in understanding and empathy toward the grocery checkers, garbage collectors and luggage inspectors of our lives is contributing to a greater shift in overall consciousness. You never know the full reach of a ripple effect.
I'm a total sucker for 1980s-esque cheese ball, and you could practically spread this video on crackers.
"When someone works for less pay than she can live on – when, for example, she goes hungry so that you can eat more cheaply and conveniently – then she has made a great sacrifice for you, she has made you a gift of some part of her abilities, her health, and her life. The "working poor," as there are approvingly termed, are in fact the major philanthropists of our society. They neglect their own children so that the children of others will be cared for; they live in substandard housing so that other homes will be shiny and perfect; they endure privation so that inflation will be low and stock prices high. To be a member of the working poor is to be an anonymous donor, a nameless benefactor, to everyone else."
~ Barbara Ehrenreich, author of Nickel and Dimed: On (Not) Getting By In America